August 24, 2021
This classic-looking re-engineered retro stand mounter is Michael Perez's new favorite speaker…
KLH Audio
Model Five
USD $1,998 pair
When I heard that KLH was back on the scene, the first thing that came to mind was countless pairs of inexpensive speakers that I came across at thrift stores and garage sales over the years. I never expected that its newest product would create a rift in my perspective on the audio world…
Long time Klipsch executive, David Kelley, purchased KLH Audio Systems in 2017, renamed it KLH Audio and put together a team to resurrect the company. He wanted to honour the vision that the original owners – Henry Kloss, Malcolm Low and Josef Hofmann – had for the brand back when they launched it in 1957. After a candid conversation with KLH Chief Engineer Kerry Geist, I quickly realized that this newest incarnation of the classic name wasn't the KLH that mass-produced budget boxes back in the nineteen-eighties. This is now a completely different company.
With the speaker you see here, KLH set out to create a product that would not only pay homage to the Model Five of the past, but also represent its best efforts to make the highest level of performance available in a speaker system of reasonable size and cost. The designers have produced a 3-way sealed box (so-called "acoustic suspension") standmounter that's said to have a wide frequency range, low distortion and exceptionally uniform response across the audible frequency range.
UP CLOSE
The African mahogany veneer, the old-world linen grille cloth, the styling used for the input panel, and the logo are all based on the original (even the packaging artwork is based on the original). The avocado green used on the carton and manual is based on the popular colour trends when the originals were released. KLH wanted to have fun with the project while looking at it from the standpoint of how Henry Kloss would have envisioned a Model Five in the year 2021.
This drove the engineering team to add much to the level of detail on the units, including the riser base, making it debatable whether the new Model Five should be called a standmount or floorstander because of its actual size. It's sort of in-between the two platforms.
KLH designed the drivers and crossover network using modern techniques and equipment to optimize the performance of the individual components – which comprises a one-inch aluminum dome tweeter, a four-inch pulp-paper cone midrange driver, and a 10-inch pulp-paper cone woofer. The thirteen element crossover divides up the work between the drivers at 2,850Hz and 380Hz.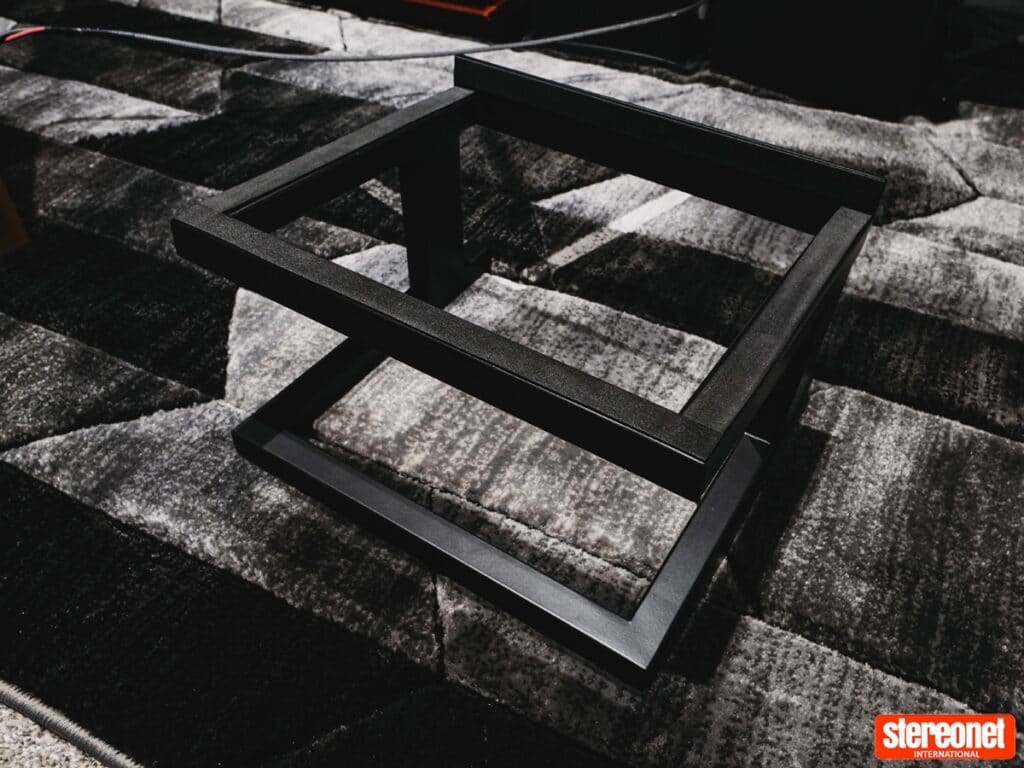 The cabinet is made from 3/4 inch MDF and is a sealed box design. Kerry Guest told me that the main difference between a sealed and bass-reflex enclosure is their behaviour below the speaker's low-frequency roll-off point. Generally, bass-reflex designs have good output down to their port tuning frequency, typically around 40Hz. Below this, the bass output falls off a cliff, attenuating at 24dB per octave, he explained. In a sealed design such as this, the output above the roll-off point isn't as strong as a bass-reflex design, but its attenuation rate below is much lower at roughly 12dB per octave. This gives lots of useful extra output very low down, which is especially welcome considering modern recordings feature much more sub-bass than classic ones.
This speaker carries over the attenuation knob from the original Model Five but has been changed, so it's better at taming difficult room acoustics. Unusually, it decreases output above 400Hz by -1.5dB and -3dB on its Mid and Lo settings, respectively; the default Hi setting keeps it flat at 0dB. The effect of the attenuation switch is relatively subtle and not immediately noticeable.
This speaker has a quoted frequency response of 42Hz-20kHz and is said to be -10dB down at 32Hz. Its claimed sensitivity of 90.5dB @2.83V/1m is good, making it recommended for amplifiers of 20W to 200W, says the manufacturer. Nominal impedance is put at 6 ohms, dipping down to a low of 3.5 ohms at 140Hz, so it's not hard to drive either. KLH says the maximum SPL is 112.3dB, so headbangers will be happy.
My reference system comprised a Primare DD15 CD transport and Bluesound Node 2i music streamer, connected to a Parasound P6 preamplifier and Starke Sound AD4.320 power amplifier. Connecting these components were digital cables from Audioquest and power and speaker cables from Audience AV. While streaming, I used Tidal's music service, which provides a higher resolution experience than some other offerings while having an extensive catalog of music to choose from. The speakers were placed in the center of my listening area, approximately 6 feet apart from one another. KLH recommends they sit between 6 and 24 inches from the rear wall.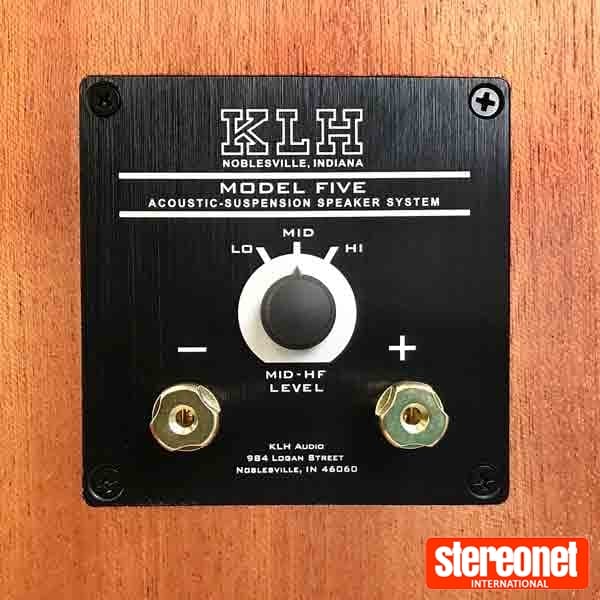 THE LISTENING
To my ears, the new KLH Model Five sounds extraordinary. Its detail retrieval and soundstaging are on a par with some of the best standmount speakers I've heard. It images effortlessly, creating an immersive listening experience. For example, my go-to musical piece for testing stereo soundstaging is Chocolate Chip Trip by the rock band Tool. The beginning of the song has a myriad of instruments trickling from the left to the right channel, creating a waterfall of sound across the room, which my review pair of Model Fives delivered skillfully.
Frequency balance was smooth and even from top to bottom, with no nasty peaks where the drive units cross over. Yet despite its fine tonality, there was plenty of clarity in the midrange and treble which added so much life and energy to whatever I was listening to. Vocal and instrumental clarity was such that I felt really connected with the music.
Numb by Linkin Park turned out to be a fascinating listen through the Model Five. This is a reference recording of mine; not only can it test low, mid and high frequencies, but the late Chester Bennington – lead singer of the iconic band – had a three-octave tenor vocal range sometimes spanning six full octaves in certain songs. This big KLH speaker passed the test effortlessly. Over the years, many designs I have tried haven't been able to maintain the song's balance, whereas this demonstrated Chester's voice and the band's instrumental harmonics beautifully.
Treble reproduction is surprisingly good. Unlike many, this aluminum dome tweeter isn't too forward and complements the rest of the speaker's sound beautifully. Highs are silky and gentle, ensuring that you hear all the music's upper harmonics in an impressively distortion-free way. I tested the speaker with a movie to see how it would perform in a home theater environment. Running my AVR with two channels was a handicap since most movies are multi-channel, but the KLH did just great. I played the racing scene in Ready Player One, which has powerful bass and midrange transients. In the race scene where a collection of coins falls to the floor and makes a high-frequency racket, the Model Five conveyed this without any harshness at all.
It didn't quite have the precision that I'd hoped for, though, so I think the design has been voiced primarily for two-channel music use. The latter is where it really impresses, giving a super-seamless bottom end on Hans Zimmer's 2049, from the soundtrack to Blade Runner 2049. Here it served up some wonderfully deep, tight and articulate bass. Compared to its closest market rival, JBL's L100, I found the Model Fives to be better balanced and a more enjoyable listen.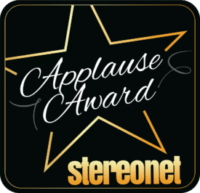 THE VERDICT
So, is the KLH Model Five a good buy, or is it just bye-bye? Definitely the former. Many listeners will find it made in heaven because regardless of musical genre, it sounds fun. It delivers memorable experiences when all too often speakers can sound rather matter-of-fact. Its classic looks are also a serious plus, as far as I'm concerned. The styling channels an entirely different era in loudspeaker design, even if the engineering is a modern take on it. Overall, then, highly recommended and catch it if you can.
https://www.stereonet.com/reviews/klh-model-five-standmount-loudspeaker-review.stereonet.com/reviews/klh-model-five-standmount-loudspeaker-review