July 15, 2021
KLH Fusion Review – So Close To Perfect You Can Almost Hear It
KLH Fusion, when looked at under a thorough review, offers up several key attributes to start them out well ahead of many competing brands and models. From the case design and included extras to features such as voice control, these earbuds are forward-looking and aesthetically brilliant.
To begin with, the design feels timeless, is comfortable in terms of both earbuds and carry-and-charge case, and is durable against day-to-day wear. But usability also plays into the design. Both with regard to carry-ability and in-hand feel, and with regard to reading battery levels. Stepping past that, in-box inclusions, from the USB-C to A adapter to the plethora of tip sizes, are better than should reasonably be expected in any price bracket.
On the other side of the coin, audio is well beyond acceptable from KLH Fusion. And battery life won't disappoint either. So what is it that sets these wearables apart? Well, that's what we're here for. So let's dive in and find out.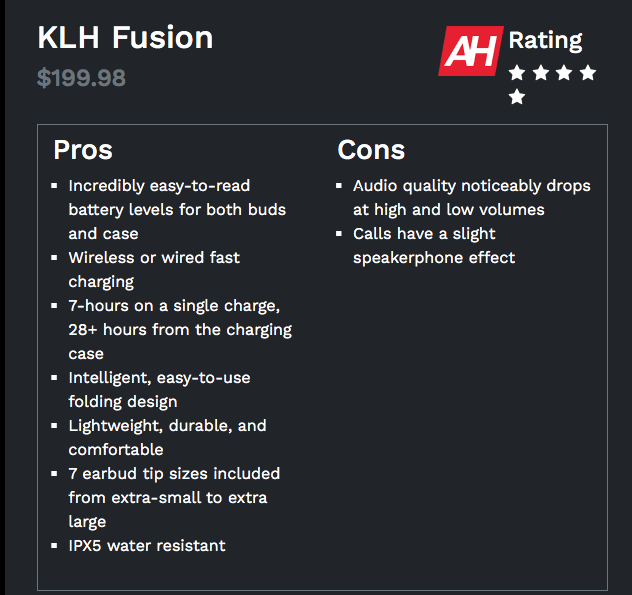 KLH Fusion takes no prisoners on the hardware and design front
The most noteworthy aspect of the KLH Fusion hardware, at least in terms of what I noticed when first opening up my review unit, wasn't its size or weight. This set of earbuds is average in terms of those regards. Although the shape and the weight do make for near-perfect portability. Instead, it was the hinge-design and the items included in the box.
Not least of all, KLH includes a USB-C to USB-A adapter, broadening the number of ways its earbud case can be charged. And that also charges wirelessly, by the way.
KLH includes no fewer than seven different sizes of earbud tips. Those range from the minuscule extra small size — marked 'xs' — to the extra-large. With sizes in between, as well as above and below, each of the standard inclusions. It is going to be incredibly easy for just about anybody to find a size that perfectly fits their ears.
After finding the correct size, these earbuds are also noticeably more comfortable. Or they are, at least, compared to most I've had the opportunity to review. They're lightweight and designed so that the bulk of the earbud unit sits on or just outside of the ear. That's as opposed to standard designs which force the bud to sit inside the curves of the ear. And, even then, that segment of these earbuds feels smaller, making them more comfortable still.
The company styled the case in a more wallet-like fashion. Clean, matte black plastics fold over from the back, filling most of a smaller groove at the front. That makes one-handed operation easy since it's just a matter of reaching a thumb under the flap and flicking it open. And, once opened, the earbuds are distinctly set offset, making placing them in the right slot easier than many competing earbuds.
Now, typically I'd spend a good deal of time talking about portability and the like in a headphone review. Not all headphones are created equal on this front, after all. And these are great in that regard too. They're lightweight and the smooth curves of the design make the case as comfortable as the buds. But there's another aspect here that's worth mentioning on that front. And that's durability.
During my review of KLH Fusion, I dropped these earbuds — entirely on accident — no fewer than 5 times. Those falls were from around 3 feet onto rough concrete. But, despite that, there were no dings, dents, or scuffs in the case after my review. And that's saying something.
These earbuds are just incredibly well-made on the hardware front. Better so than most competing products I've had the opportunity to review. Although it should also be noted that they are only IPX5 rated for water protection.
KLH Fusion nails every aspect in terms of battery life
Now, a long-lasting battery is one of the most desirable attributes that a pair of true wireless headphones can feature. But that's not always enough, especially when it comes time to actually keep tabs on charging and discharging. KLH Fusion goes a long way toward fixing problems with that, as this review shows.
In terms of battery life itself, KLH Fusion is already ahead of the curve though. The company claims up to 7-hours from a single charge and my test showed that the buds will last as long as 6-hours and 46-minutes on a single charge. The carry and charging case offers just under an additional four charges too. Adding up to a total that's just short of the claimed 28-hours of playback including the case.
Of course, that's impressive on its own. But I ran the battery life segment of this test at full volume too. And at an average distance of over 15-feet from the source device. So the claimed battery life likely doesn't do justice to the maximum battery life of these earbuds. Especially with consideration for the fact that most users will be much closer than 15-feet from the source device. And for the fact that maximum volume is absolutely overkilling it for these earbuds. A volume level of 50-percent would have been more than enough.
Stacking on that, for the battery of this device, these earbuds, case and all, can charge up in just over one hour and 45 minutes. That's via either USB-C to USB-C or via USB-A to USB-C. The included cable has an adapter to work with both configurations. And they can charge up wirelessly if there's no spare port available.
Where these earbuds step ahead of the competition is in that charging case. The wallet-style flap at the front doesn't completely hide the battery level. So it's possible to see how charged the case is, without opening the case. And the four LEDs make figuring out the exact level easier. Just as importantly, there are separate indicators for the left and right buds. So it's easy to see how charged everything is at a glance.
For those that don't want to look at the case, the Bluetooth indicator that shows on a connected smartphone is more accurate than usual too. So a quick swipe down on the notification shade easily showcases how much battery is remaining. At least for the buds themselves.
Audio quality is an area where some points are lost here, but not devastatingly so
Now, the audio quality of any earbuds is going to be the most important characteristic. And that almost goes without saying. But it's also the one area where KLH Fusion lost some points during my review. That's not to say that volume or clarity is bad. These are actually quite brilliant on those fronts — mostly.
At the lowest bass registers — which I tested using Nine Inch Nails' "Copy of a" — simply don't feel powerful or loud enough. And that's at any volume. While the tones do register better at a higher volume, the bass does seem to be drowned out, more generally, at those volumes too. In fact, these earbuds are simply not going to be the best for listening at any volume above 75-percent, really. Let alone at full volume, where mids become muddled compared to the highs as well.
At reasonable volumes, the balance feels great. Center-mixed notes feel as though that's where they reside, while other notes also appear where they should. But those are volumes between around 40-percent and 70-percent. And that volume may be a bit too loud for some users. KLH included both AAC and aptX support, as well as Bluetooth 5.0, and 6mm dynamic drivers. All well-suited for those volumes.
The audio split, conversely, between left and right channels, is well preserved — albeit a bit over-pronounced rather than with a smooth sweep.
At volumes below 40-percent, audio details in the high and mid-range are over-pronounced, compared to the above-mentioned range. Although the bass frequencies are still most definitely there.
For calls, these earbuds performed well, especially in terms of mic input. They did still sound as though I was speaking on speakerphone. But that effect wasn't as pronounced as many other headphones I've used. And it didn't become cumbersome or bothersome, with only a few people noting the effect when called. And that's thanks to the company including four Knowles MEMS smart mics.
Finally, these do well in windier conditions across the board. Effectively blocking out external audio during listening and picking up voice better than average during calls.
Connectivity and software are on point for the price
In terms of connectivity, I didn't notice any significant problems while listening via KLH Fusion during my review. In fact, the only problem I noted in the connection occurred when I left my source device inside and stepped outside. The building's exterior was, of course, coated in sheet siding, likely causing the drop in connection. Anywhere else I moved within my two-story residence, the connection stayed solid.
And getting these earbuds connected was easy too. Or at least as easy as any other pair of standard Bluetooth buds. With connectivity being automatically restored as soon as the earbuds were powered on by removing them from the carry case.
In terms of special features, KLH Fusion goes a bit further. Not only are all of the expected noise-canceling features found in modern listening devices part of the build. These earbuds come with a built-in AI assistant for controlling playback. And that's in addition to the ability to readily access on-device AI such as Siri, Alexa, or Assistant.
With voice controls, quite aside from those latter assistants, I was able to play, pause, stop, or increase or decrease volume for playback. I was also able to easily answer or reject calls with voice during my review of KLH Fusion. All of that, by the way, is without the need to use any wake-word at all. And there weren't any false activations either, thanks to Bone Voiceprint technology used by KLH. So these earbuds only picked up on commands that I issued while wearing them.
KLH Fusion is a great true wireless offering if you like moderate volume and ANC
Now, the audio discrepancies between low, moderate, and high volumes on the KLH Fusion are the only things really holding these earbuds back. Or at least, holding them back relatively speaking. That's not to say that the quality itself is bad, of course. But at volumes between roughly 0- and 40-percent or 70- and 100-percent, they simply aren't as good as at other levels.
Having said that, KLH Fusion shines undeniably everywhere else under review. And it easily earns its 5-star rating.
On battery life, KLH starts ahead of the curve and stays there. With rapid charging to match the competition and enviable battery life, these are going to be near the top of the pile. At the very least for the earbud category. KLH also did an exceptional job on touch interactions and on ensuring that no-touch interactions work just as well as those. And often better.
Meanwhile, the design of KLH Fusion goes further ahead of the curve on both durability and usability. They're lightweight and comfortable, with easy-to-read battery indicators, a ton of sizes to get near-perfect audio at the right volumes, and all of the hardware to make charging painless. If all of that sounds appealing, at a price under $200, these earbuds may just be the perfect fit for you. KLH Fusion is easily among the best in terms of value.
https://www.androidheadlines.com/2021/02/klh-fusion-review-true-wireless-earbuds.html