November 2, 2021
KLH Albany II 2-Way Bookshelf Speakers
Overall, the handsome and compact KLH Albany II is capable of an extremely musical performance. But like many speakers its size, the rhythmic drive and engagement are sometimes constrained by the lack of deep bass. You'll probably need a sub.
Intro
Budget Bookshelf Speakers seem to get better year after year, giving you more and more refinement for your money. It's amazing what companies have been able to do at the sub $500 price point, using computer-aided cabinet design and improved materials to great effect.
That's good news for someone looking for their first hi-fi speaker. Especially if they're on a tight budget, or don't want to spend a ton of cash right off the bat.
The bad news is there are quite a few good speakers under $500, and not a lot of opportunity to hear them. It's really hard to find places that demo speakers nowadays.
So how do you know if a particular speaker's sound will suit you? Well, first of all, you should read some reviews and see if its performance seems to match your preferences. If so, then you need to get a pair and listen to them to make a final judgment.
If you're reading this particular review, then you're probably interested in the $300 KLH Albany II, a 2-Way Bookshelf Speaker that promises clear, natural sound in a beautiful design that will complement any decor.
So does this affordable speaker have what it takes to make your audition list? Well, I hope I can give you the information you need to make that decision. Read on for my impressions!
Disclaimer: The KLH Albany II 2-Way Bookshelf Speakers were purchased by this reviewer for the purpose of doing this review.
Specs/Features
5.25" Kevlar bass driver
1" Anodized aluminum tweeter
Custom multi-element crossover
3/4" Low resonance MDF cabinet construction
Custom honeycomb designed magnetic grille
Bass-reflex design for superior bass performance
Power handling: 200 watts
Frequency response: 35Hz-23KHz +/- 3dB
Sensitivity: 92dB
Build
If you couldn't tell from the name, the KLH Albany II is the second version of this compact, shoebox-sized, 2-way bookshelf speaker. Although it looks a lot like the first one, several changes to the new Albany have allowed for a price change, moving down to $300 from the $480 the originals commanded.
The price reduction is made possible by swapping out the real wood veneer of the Albany I with a vinyl veneer and moving from dual binding posts to a single set. The new model has also moved from an acoustic suspension design to a ported design.
Despite the lower price, the Albany II still manages to look pretty nice, using quality vinyl for the outside and maintaining a clean baffle with magnetic attachment points for the grilles. The color choices are Black Oak or European Walnut, with the Walnut being my favorite. The 5-way binding posts provided aren't the most robust I have seen, but they will do the job.
The new Albany retains the same 5.25" kevlar midbass woofer and 1" aluminum tweeter from the first model, and they also seem to have an equally thick MDF cabinet, specced at a 3/4" thickness. A quick rap on the side on the cabinet elicits a brief "thunk" which signifies a fair amount of sturdiness. Like several other manufacturers, KLH uses computers to design optimum bracing for this speaker, and it seems to work.
Sound
For my testing, I primarily hooked up the Albany II's to the $3000 Cambridge Audio EVO150, which I like to use as a reference, but I also listened to them with the more affordable SMSL AO200 ($279), which is a good match if you're looking to build an inexpensive system for a smaller sized room.
I set the Albany II speakers up on stands about 3 feet from the front wall and 3 feet from the side walls. They were about nine feet apart, and about nine feet from the listening position. I found I got the best imaging with a slight toe-in, but these speakers really are not too fussy regarding placement.
When it comes to sound, the Albany II is pretty well balanced as long as you don't consider the deep bass notes that are missing. I'm willing to surrender those notes as this is a slimline compact speaker with a 5.25" woofer. I personally rather have a speaker that's a little lean as opposed to boomy.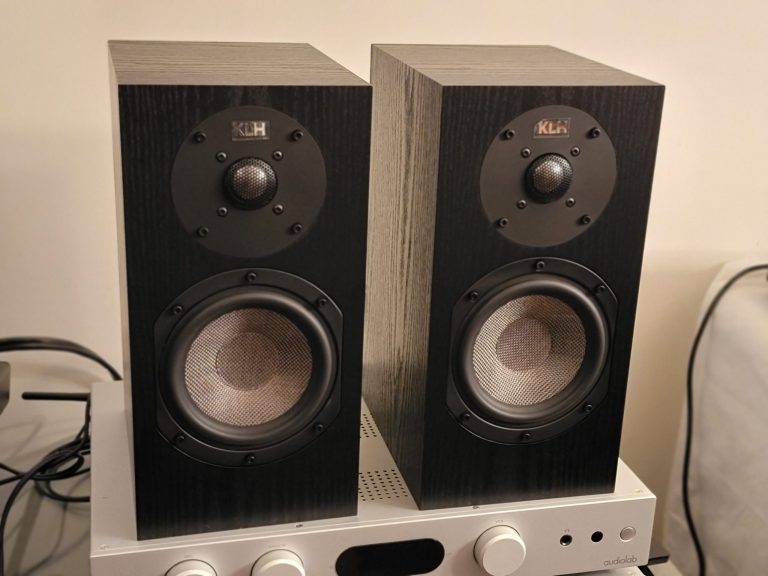 I also can surrender some deep bass extension due to the impressive treble and midrange tuning. As far as treble goes, I find it to be borderline too forward, but not quite, which allows the Albany II to have good presence, air and clarity, especially at this price point.
That clarity extends down to the midrange, where vocals and instruments sound pretty natural except for a tad bit of nasal coloration.
I loved how this speaker presented textures realistically for the most part, even down to the gentle metallic shimmer of cymbals.
As I alluded to earlier, Bass is probably the weakest portion of the overall tonal balance. I attribute most of that to physics since such a small speaker can only move so much air.
I have to say, however, that the Albany II actually has more midbass punch than I expected, which helps with dynamics, but unfortunately, it still lacks the extension needed to fully support bass-driven songs.
If you plan to listen to anything funky like Frankie Beverly and Maze's "While I'm Alone", which I cued up during one of my listening sessions, you will probably need a sub to fully realize the amazing Bass Guitar work. If you're listening to some spare jazz or acoustic tracks, it will be ok.
On the other hand, I have really come to love the soundstage and imaging provided by these diminutive speakers. The stage is tall and wide, plus the imaging is remarkably focused all the way across.
Listening to "Tears From Heaven" from Eric Clapton's "Unplugged" I was enamored with how dialed in Eric's vocals and guitar were in the middle of the soundstage, accompanied by the background singers and guitars on either side.
They even had a decent amount of depth for such an inexpensive speaker as you could hear the accompaniment clearly behind Clapton.
The Wrap Up
With the Albany II, I find that KLH clearly makes good on its promise to provide a beautifully designed speaker with natural sound and clarity. The only drawback is with its lack of Bass extension, most people will crave a subwoofer, which will push out the budget.
But for those that are looking for a cheap speaker with a natural timbre for vocals and instrumentals, plus remarkable imaging, they should definitely check out the Albany II. Just keep in mind, unless you're using them in a pretty small room, you will probably need to add a sub at some point.
Hifitrends is reader-supported. When you purchase through links on our site, we may earn an affiliate commission. Prices are subject to change at any time.Paul Cash
I'm an audio writer who started as a young audio salesman/consumer electronics professional back in the late 90s. That's where I discovered the magic of 2-Channel sound. My thirst for great sound has led me on a delightful music quest that continues today.