August 31, 2022
A new name has appeared on the domestic hi-fi market in the person of KLH. We will start our acquaintance with the manufacturer with the sound wall, simply called Model Three, which is not an the ordinary piece, but before that, dear readers, allow us to say a few words about the manufacturer itself, which already has a significant history.
New name, but only for the domestic audiophile audience
Founded in 1957 as KLH Research and Development Corporation in Cambridge, Massachusetts,United States, the company was founded by Henry Kloss, Malcolm S. Low, and Josef Anton Hofmann, originally for the production of loudspeakers only. KLH was the world's largest loudspeaker company in a short period of time, employing more than 500 people and delivering more than 30,000 loudspeakers a year to retailers and distributors on six continents. KLH has references such as the first full-fledged electrostatic speaker, the Model Nine, which was voted one of the twelve best loudspeakers ever built by Stereophile magazine.
Their most popular models were the Model Five, Model Six and Model Seventeen, for which the acoustic suspension speaker design was originally developed by Edgar Villchur and one of the founders, Henry Kloss. KLH was acquired by David P. Kelley, former CEO of Klipsch and VOXX, in 2017, when it moved its global headquarters to Noblesville, Indiana.
Now, let's return to the main character of this article, which is the smallest piece in the Model Collection series and is named KLH Model Three. Although it's a tripod sound box, and it actually is,it's not in its usual form, and it's following in the footsteps of the one bigger Model Five. Above the Model Five, there's also the Model Seven loudspeaker, which, according to our information from the manufacturer, will arrive in the fall, and we'll tell you so much about it in the front end that it's no smaller than 13 inches, so it has a 335mm subwoofer, so it's going to be a really muscular piece! But now we're really starting from the beginning.
The KLH Model Three is a classic-looking box with a stand in stature that takes us back to the middle of the last century in terms of looks. This is due to the thick MDF sideboards parallel to each other, which received a real wooden paneling, the workmanship is exemplary, so it is also eye-catching. Like the Model Five loudspeaker, the English walnut version comes with a stone-washed protective fabric, the West African mahogany finish is complemented by the Old-World grille fabric,but you can also buy them separately with the Basalt Black Knit, which inherently doesn't come with any of them. Their quality is really gorgeous, the holding magnet takes its job seriously, and we can take it off the front panel with the help of a piece of fabric sticking out at the bottom. We think that this is how the sound boxes are put on, providing a really uniform image, but removing the fabric, we can see that very modern speakers have been used!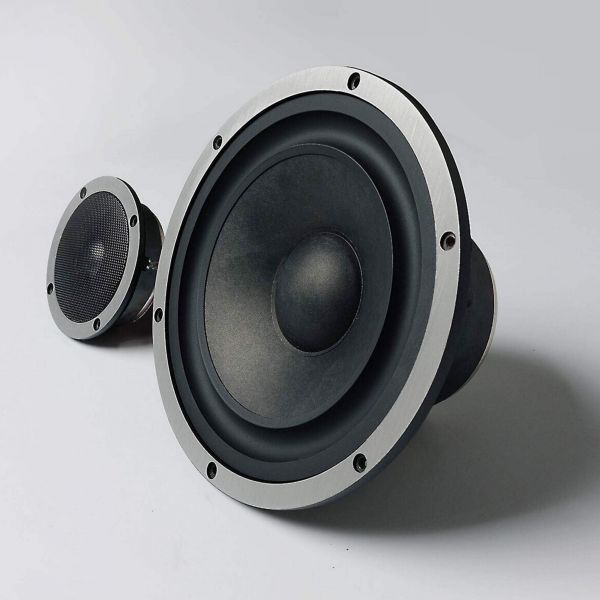 KLH recommends the Model Three to music fans with a smaller listening area, but its capabilities are also close to those of the stationary model, not just its variations in execution. This was achieved by including a stand of its own, which is made entirely of steel, with a layer of felt in the joint areas to avoid damage, and the frame itself tilted at an angle of 8 degrees, so the scattering angle of the speakers placed in the front panel has also increased. Interestingly, the KLH Model Three is a closed-system box.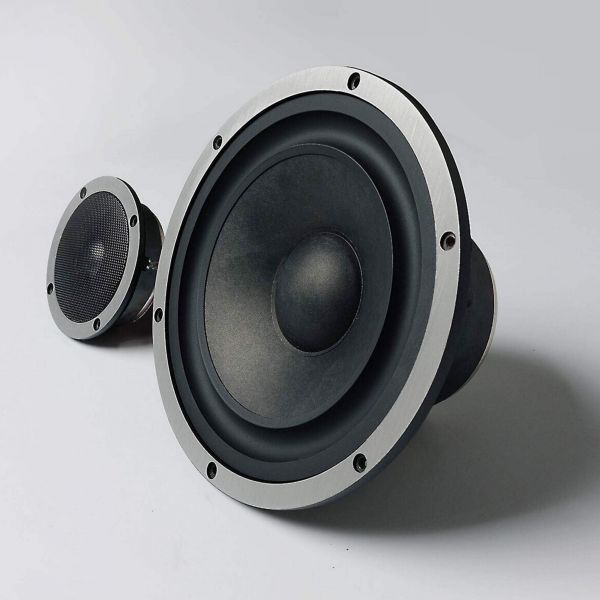 An aluminum dome tweeter with a 25mm soft rubber suspension was built into the front panel in the classic layout, and a 200mm diaphragm bass-mid speaker made of paper pulp, equipped with an inverted rubber flange and a flat wired swing coil.
The latter is placed in a resonance-free, die-cast aluminum frame, and the pair is supported inside by a thirteen-component crossover, which is equipped with high-quality iron core coils and Mylar foil capacitors.
The acoustic suspension design used produces one of the most accurate and linear movements currently available. Due to the completely self-developed solution, the speakers operate with less distortion at a larger margin than traditional bass reflex-type systems. This design is recognized worldwide for its higher accuracy, tighter bass transients, and exceptional bass resolution and texture. At the back of the sound box, we find the first-class, gold-plated, single inputs, as well as three-position balance regulator that adapts the sound to the acoustic environment.
Thinking about all this, the KLH Model Three is a pretty universal sound box that you can put on your existing stand, but you'll really run yourself out on your own, without which you can't even buy it in the first place. Note that their combined price is absolutely competitive, especially knowing that many other manufacturers are inclined to ask for a significant amount of money for a rack with much less material. So we can take the view that the price of the stand itself is included in that of the sound box, it's actually a kind of bonus, and it's also a help in making the Model Three really give itself since both were designed in parallel. During the audition, we used our Parasound pre-end, Naim SUPERNAIT 3 stereo amplifier, and tube-output CD player, QED, and AudioQuest cabling, and out of curiosity, our own marble speaker stands.
Individuality for adherents of classical value systems
The KLH Model Three is actually a smaller version of the three-way Model Five, but the principle remains the same, which Kerry Geist said: "Our approach was to make the Model Three have a similar low-frequency extension, but also to offer it at a lower output than the Model Five due to its more compact design. The idea is that model three would be used in smaller listening spaces or where no higher power is needed, without sacrificing bass.
Well, what we get from this is that KLH took the larger model and then scaled it down, offering the same sound at a much friendlier price than its big brother, but they didn't want to compromise on its bass range. The Model Five is indeed a more statured piece, but the Model Three can't complain about its physique either, as you can't help but notice it, and it's not just because of its luxury design and tripod system. At first, we treated it with caution, as it is quite individual and the box has a closed design, but the 200 nm low-mid speaker and the fact that it was designed in America suggest something. Yes, the KLH Model Three's sound is very strong, dominant, really unified and has a charm that is absolutely identical to the exterior. He is a believer in classical value systems, so we essentially get what we expected based on its appearance.
Two of the three-position controls at the rear made the soundscape really dunst, but the third allowed the otherwise great tweeter to unfold more, so we stayed with this option. Of course, no one misses the experimentation, but in our system and in our room this position manifested itself to be the best, here a truly balance soundscape was created. 20 mm didn't even work for him, he was able to show the best of his knowledge even at a low outlet level, but let's take the sensitivity of 88 dB seriously, so we need at least 50 W and sufficient reserves to achieve this.
The KLH Model Three has a neutral soundscape, but it still has a fun style. Sammy Hagar, Sheryl Crow and Eric Clapton came one after another, where the vocals were absolutely natural, and not colored, but colorful. The nature of our own electronics is quite analogous and fat bass, which suited him very well, the large mid-mid diaphragm already softly pressed the tempo tight and hard for Marcus Miller's bass, and in the case of Van Halen, the drums surprised not only with their naturalness but also with their depth. If this is a lot for someone, or more accurately unusual, they might as well try a more serious S.M.S.L amplifier, which has a more airy, high-pitched soundscape, so the KLH's mid- and upper ranges may play a bigger role. It's a matter of taste, we think both work great together, as the box itself is the product of very definite ideas, and the end result is
definitely commendable.
It was able to create a huge stage image, which is also due to its tilted stand, without it we got a slightly straighter, more concrete soundscape, and although the space it could fill was still huge, we didn't quite hear what the designers had the exact idea of, so the approach to a stationary, in this case, model five loudspeaker. Interestingly, this sound box is not like some of its rivals who want to look big, because it really made us feel the effect of a much more statured box. It took some getting used to the fact that it was lower than if we had placed it on a normal-sized stand, but in a short, really short time, we got used to it and then fell in love with it, thanks to its aforementioned naturalness and strength.
It has a hectic, tight, and punchy soundscape, which may be a lot for more analytical music fans, but that's more due to the fact that we didn't really expect a sound box of this size to move such a large amount of air, with tremendous power and accuracy. Listening to Tori Amos, the singer deceptively didn't seem so tiny anymore, but Bösendorfere took on the size that only seemed to fit in our listening room. At Toto, he showed a real, full stage that was like the music itself: loose, entertaining, but at the same time pro-blood and always accurate.
He was able to cement us on electronic music, we couldn't even blink very much, the music of Yello sounded so resolutely, which was further enhanced during Kraftwerk. The Safri Duo also fired us up properly, and the harder metal took us to another level, as in addition to unleashing the primordial energies, we were finally able to feel that there were genuine skins on the drums, and the guitarists, in addition to letting them crush, were neatly separated, all of them could be heard clearly and accurately and enjoved.
A great blend of style, determination and entertainment, this speaker
In the case of KLH, we couldn't have imagined a better start than the Model Three. They have cheaper loudspeakers, we also welcome them, as well as larger ones – we will also not object if we have to test them – based on the success of which this sound box was designed, only for smaller rooms. As we wrote, it's also relative because it loosely fills an average living room with warm, exciting, full, accurate, yet entertaining music, and because of its character, it can make the most of any style. For someone who has a wide musical repertoire, has, or wants to buy a more muscular amp and is looking for a custom, very determined, dynamic and genuine sound box with tangible musical pleasure, with a small footprint, who should not miss the opportunity to get acquainted with Model Three! And the slushpoene is – and it's no joke – that in this price range it is one of the few manufacturers who offers a 10-year warranty on the loudspeaker. This, in our opinion, means legitimate self-confidence, and for us a certain peace of mind, which is not negligible even if it is likely that we will not have to take advantage of its opportunity.
KLH Model Three stand speaker
Specifications: two-way, two-speaker, closed
Speakers: 200mm paper diaphragm subwoofer
25mm soft aluminum dome tweeter
Load C3020
150/600 W
Frequency response: 46 Hz-20 kHz (+/- 3 dB), 35 Hz (-10 dB)
Crossover frequency:
Responsiveness: 1500 Hz
88 dB (2,83 V/1 m)
Nominal impedance:
Minimum impedance: 6 Ohm
3.7 Ohm at 320Hz
Max SPL: 108 dB
Recommended amplifier power: 30-150 W
Dimensions (without stand): 311 x 482 x 267 mm
Dimensions (with stand – included): 311 x718 x292 mm
Weight (without stand): 13.2 kg
Weight (with stand – included): 16.4 kg
Price: 927 980 HUF/pair
Dietnhuter.
Muzix Group
+36-30-907-0709
1139 Budapest, Forgách u. 21.
muzixgroup.com
muzix.hu
Full-bodied, natural, dynamic performance, huge stage image, entertaining performance A space that defies his stature, a sound that loosely fills the average living room
Closed system and custom stand included in the price
Sophisticated, exclusive exterior, first-class workmanship
Unique solutions, own ideas that have a long history and still work great today A smaller version of the one-size-fits-all Model Five, which offers similar quality, only in a smaller size and at a cheaper price