April 6, 2022 Model Three Speakers, Reviews, Uncategorized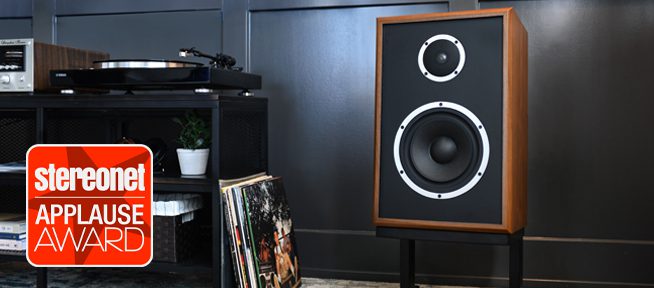 Posted on 1st April, 2022
KLH Audio
Model Three Bookshelf Speaker
KLH Audio can trace its roots back to 1957, as KLH Research and Development Corporation; indeed, it was once said to be the largest loudspeaker company in the world. It was formed by Henry Kloss, Malcolm Low, and Josef Hofmann, with the first initial of their combined surnames forming the KLH name. Its loudspeakers were based on the 'acoustic suspension' design originally developed by Edgar Villchur and Henry Kloss when designed for Acoustic Research.
KLH Audio was reborn in 2017, with the vastly experienced Chief Engineer Kerry Geist (ex Klipsch for thirty-two years) onboard to effectively modernise the acoustic suspension design. It has subsequently had much success with the Model Five loudspeaker; StereoNET reviewed it and gave it an Applause Award. The new Model Three has just been released and is effectively a smaller, more affordable version of the Model Five.
UP CLOSE
So, what specifically was changed to produce the KLH Model Three?
Geist continues:
"For the most part, we use the same approach as the Model Five, except, of course, for the 2-way design which deletes the midrange. The Model Three employs a very similar cabinet construction to the Model Five. It also uses a similar 12dB/octave slope crossover – although there is additional circuitry used for equalisation purposes which results in a similar part count. The 200mm woofer is a high excursion design, also similar to the 250mm woofer in the Model Five."
That woofer features a rigid diecast aluminium frame that's been specifically built for an acoustic suspension enclosure. It has lots of natural compliance, enabling it to cope with the high excursions needed in a sealed box design. It uses a flat-wire voice-coil, an aluminium flux stabilising ring to reduce non-linearities in the magnet assembly, and a heavy motor structure designed to greatly reduce distortion over large cone displacements. Modern laser-based measurement techniques were used to refine critical parameters.
Unlike more commonplace bass reflex designs, with a tuned bass port to improve bass extension, acoustic suspension designs use a sealed enclosure with the internal volume of air as a spring to push back on the rear of the woofer cone in a linear and controlled manner. That's because air behaves predictably and consistently, so low-frequency performance will remain clean even at the highest cone excursions. It also does so without the phase delay, linearity and accuracy problems of many bass reflex designs.
Looking at the published specifications, the crossover hands off to the 25mm aluminium dome tweeter at 1,500Hz, and the frequency response is said to be 46Hz to 20kHz +/- 3dB. In-room sensitivity is quoted as 88dB @2.83V/1m, which is good for the size and design. Amplification of between 30 and 150W is recommended. Kerry says:
"We've found that 50W or higher really helps the loudspeaker open up. The impedance response is relatively benign so it shouldn't present a problem for most amplifiers."
At the rear of the cabinet are robust five-way speaker binding posts and a three-position 'Acoustic Balance Control' designed to tailor the loudspeaker's treble output to suit your taste and acoustic environment. The switch drops either -1.5dB above 400Hz (MID) or -3.0dB above 400Hz (LO). It's a very useful and handy addition.
KLH calls the Model Three a stand-mounted bookshelf speaker, as the positioning is rather flexible. A pair of black powder-coated 14-gauge steel riser bases are included at no additional cost, made to suit the Model Three. They feature an 8-degree slant designed to point the speakers towards the listener at your seated position and go a long way to give it a unique style. They appear to be very well made, with a cushioned surface to keep the cabinets scratch-free. Otherwise, KLH says you can also fit the Model Three on a bookshelf.
I tested the Model Three using the supplied riser base in various locations and found it to be quite versatile and not particularly fussy to position successfully. The user manual states that the cabinet is tuned for its rear to be 15cm to 60cm away from the front wall, and a minimum of 60cm from the corners of the listening room. I left my review pair close to my usual loudspeaker position of 75cm from the front wall. The speakers sat 2m apart and 2.8m away from me, with mild toe-in.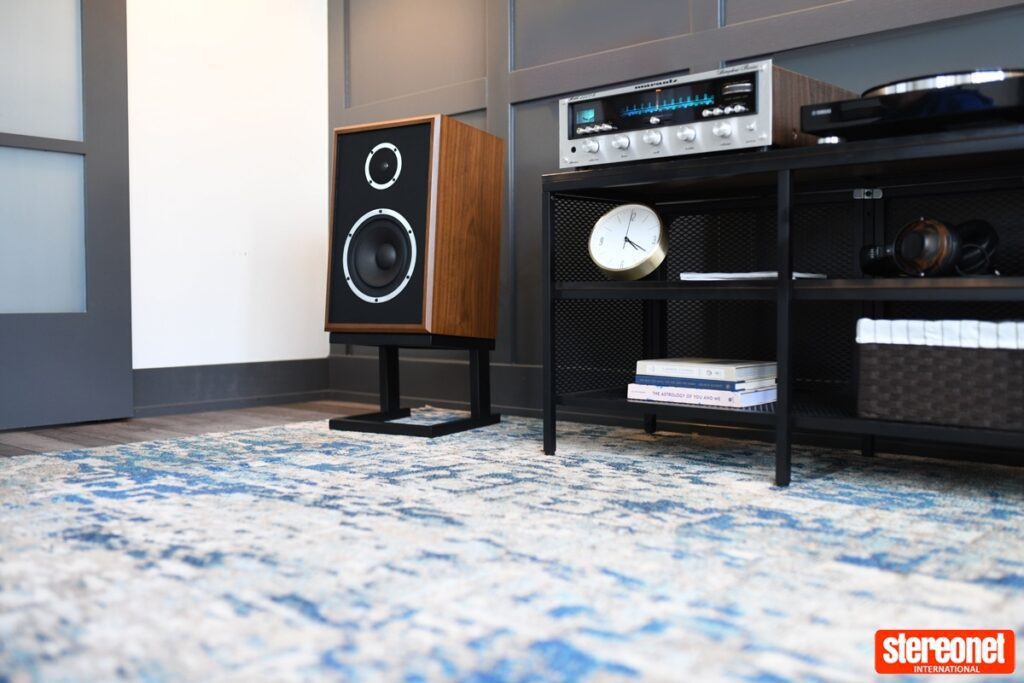 For this review, I connected up a Copeland CSA100 integrated amplifier, which provides 100W RMS per channel of clean power. LUMIN's P1 was the source, streaming Qobuz and Tidal HD tracks. As a result of testing, I found that I preferred the sound with the retro-styled magnetically attached speaker grilles removed. It helped just slightly with the detail and treble balance when listening critically.
KLH states that the Model Three, "confidently delivers jaw dropping low bass extension, surprising mid-bass detail, and high frequency accuracy from its small enclosure." I tend to agree with this description, considering its rather modest dimensions of 482x311x267mm (HxWxD). Yet it says the low-frequency performance goes all the way down to 35Hz, but this is at -10dB, so the figure is somewhat academic.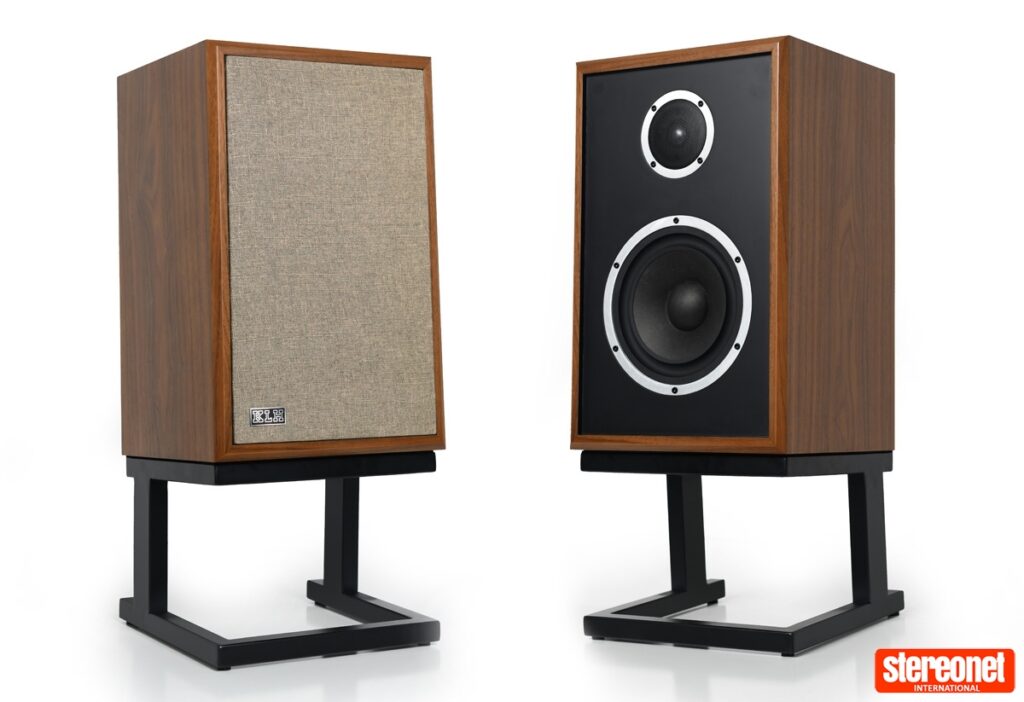 THE LISTENING
The KLH Model Three is a loudspeaker of contrasts. It has a big personality that makes music fun to listen to, yet it is still disciplined, concise and controlled, all in a small package. It tends to take on the personality of the amplifier driving it, so it has decent levels of neutrality – but with a likeable twist. It has appeal and charisma, so it's easy to understand why so many are enthusiastic about the Model Five, with which it shares many attributes. Such appeal unquestionably extends to the Model Three.
This 'natural but fun' quality was clear to hear with Underneath the Harlem Moon by Rhiannon Giddens. The track sounded the opposite of boring – it was colourful and entertaining, partly due to a forward presentation. Yet, the instruments and vocal were neutral enough, with no evidence of unwanted editorial intervention by the loudspeakers.
Tonally, the Model Three is well balanced, albeit with a slightly highlighted upper mid and treble region, making for great articulation and definition. Nick Cave's voice in Lime Tree Arbour sounded a touch lighter and easier to listen to than my full range reference JBL HDI-3800 loudspeakers. The organ, piano and snare drum had more presence and were better lit. The three-position Acoustic Balance Control works fairly subtly, but it's still useful to find the balance that you prefer, allowing fine-tuning. This was obvious from the sound of the brass instruments in Ten Men Workin' by Neil Young, which had a nice degree of treble bite yet weren't overblown or harsh.
The bass proved clean, tight and punchy, with a satisfyingly chewy texture. The acoustic suspension design plays a huge part in this sonic character and is a drawcard. Leon Bridges' Bad Bad News was fun and animated, yet without a hint of fatigue or stress. The Model Three always sounds taut, rhythmic and controlled, helping to connect with the music on an emotional level. I wanted to listen longer and rediscover all my old favourite pieces of music.
Its sound reminds me of another sealed enclosure loudspeaker, the Gale 402A, which I owned and loved many years ago. Yet this is a far more capable and refined product. The solo piano of Alan Clark playing Brothers in Arms was very realistic, with an evenness and clarity that demonstrates a lack of cabinet influence. Compared to my Focal Electra Be loudspeakers, the KLH had far quieter backgrounds and was way less boxy sounding, with a much larger soundstage. For example, Kraftwerk's The Telephone Call was replayed with all the Germanic laser-cut precision that I could ever want. Via my Thorens TD145 Mk2 turntable, I found myself basking in the speed, impact and texture of Stevie Wonder's Master Blaster. The soundstage pushed way beyond the loudspeakers, with deceptively large stereo images that belie this speaker's modest dimensions. Indeed the speaker appears to disappear, with excellent off-axis performance.
THE VERDICT
The new KLH Model Three is a highly capable little loudspeaker, one that's far more characterful and less analytical than most modern designs. Rewarding and engaging, it produces a huge stereo image, and with a bass full of texture and resolution. At no stage was the sound boring or a taste of plain vanilla. So do check it out if you can – not just for its vintage styling or obvious cool factor, but for its likeable sonics. It really does connect you to the music in a special way.
https://www.stereonet.com/reviews/klh-model-three-bookshelf-speaker-review

MARK GUSEW
Starting his first audio consultancy business in the early '80s whilst also working professionally in the electronics industry, Mark now splits his time between professional reviewing and AV consultancy.