May 4, 2021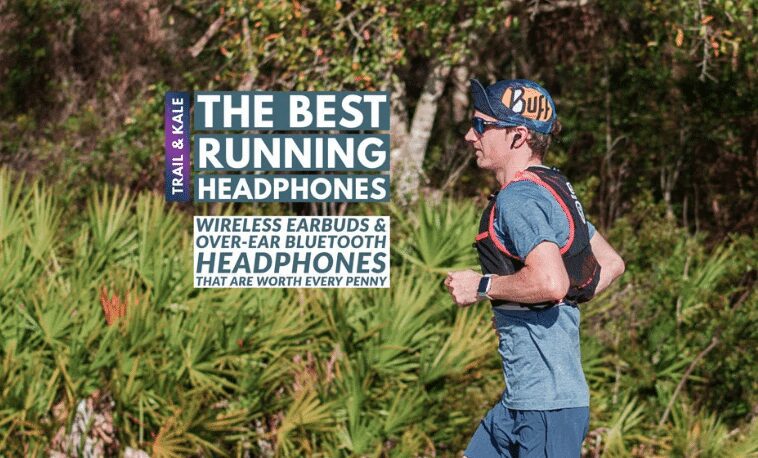 Wireless Earbuds & Over-Ear Bluetooth Headphones That Will Stand Up To The Toughest Trail & Ultra Marathon Runs
Written by Alastair |
Welcome to our Best Running Headphones guide in which we have selected the best wireless earbuds and over-ear headphones for running, whether that's on roads as well as trail running and ultra-marathons. Because of the features that make these the best headphones running, they are also great headphones for workouts, the gym, hiking, and day-to-day use.
Wireless headphones, including in-the-ear earbuds, are much more affordable than they used to be and the Bluetooth connection is so much more stable, so all headphones in this list are wireless and connect to your music device (for example, your phone) using Bluetooth. Some of these running headphones are attached to each other, which has its pros and cons which are explained in the brief reviews for each of the wireless running headphones below.
For more information on choosing the best running headphones for you, including the key features of the different types of running headphones such as a comparison between over-ear headphones and in-ear earbuds, click here to jump down to our running headphones buyer's guide. Otherwise, read on to see our shortlist of the best running headphones.
Overall Best Earbuds for Running
1. KLH Fusion True Wireless Earbuds [with Noise-Canceling]
This was such a close call for us to make but the KLH Fusion True Wireless Earbuds are the best wireless earbuds for running. They have also been awarded the coveted Trail & Kale Editor's Choice Award! Key features of these KLH earbuds include:
They have excellent noise-canceling for in-ear earbuds and support 48kHz/24-bit music quality over Bluetooth, which means it's possible to hear even the smallest details in your music. The Bluetooth connectivity is very stable and responsive and I have not experienced any audio lag while watching YouTube or Netflix videos on my laptop or smartphone.
These earbuds are very comfortable to wear for long periods as they are so lightweight and fit securely fit with no worry of them falling out when you're working out, plus they are IPX5 waterproof (so you can wear them in the rain but don't submerge them), and they're sweatproof. For more details on the key features, click here to read my full review.
Sound quality: Excellent
Waterproof rating: IPX5 (waterproof and sweatproof)
Weight: 0.35oz (two earbuds together), 2.4oz with case
Battery life: 7 hours per earbud, extends to 28 hours with charging case
Reasons to buy: Feature-packed, noise-canceling, great battery life
Downsides: At $200, they are one of the more expensive running headphone options
https://www.trailandkale.com/gear/best-running-headphones-wireless-earbuds/